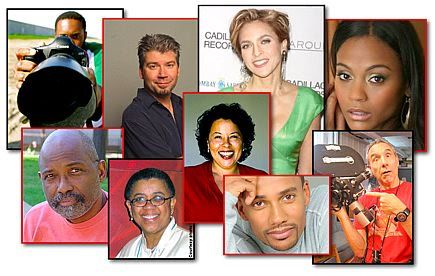 TONIGHT, Wednesday, Dec. 8th - 9pm (E.S.T.) on the final episode of Season #4 of the
Double Down Film Show
, we'll be sharing our
Top 10 Words of Filmmaking Wisdom
from our guests over the past 2 years on everything from making the most of festivals to dealing with difficult actors.
We'll be reprising clips from 10 of our most insightful and inspiring guests:
Sam Pollard - Producer/Editor
4 Little Girls, Mo' Better Blues, Clockers
- "The Evolution of Becoming an Editor"
Zoe Saldana - Actress
Avatar, The Losers, Drumline
- "What NOT to Say to an Actor"
Chris Gore - Author/Filmmaker
The Ultimate Film Festival Survivor's Guide
- "The Zen of Networking"
Sheril Antonio - Vice Dean
N.Y.U. Tisch School of The Arts - Film/TV
- "The Necessity of Passion"
Sig De Miguel - Casting Director
Premium, The Good Shepherd, United 93
- "Getting Name Talent for First Time Directors"
Cliff Charles - D.P.
When the Levees Broke, Nike Commercial
- "The First Thing to Do w/ a Script"
Roberta Munroe - Festival Programmer, Author
Sundance, "How Not To Make a Short Film"
- "Story vs. Style"
Darnell Martin - Director
Cadillac Records, I Like It Like That
- "Handling On-set Freak Outs"
Lloyd Kaufman - Director
Toxic Waste Avenger, Class of Nuke 'Em High
- "What Propels a Movie"
Hill Harper - Actor / Author
CSI, Lackawanna Blues, Premium
- "Show Art vs. Show Business"
This final installment of 2010 will be another one of our special wisdom-packed no-B.S. "keynote" episodes and a guaranteed instant classic. Listen in or download the show after it airs and go to film school through the back door courtesy of some of the best in the business.
Thanks for listening and supporting the show. We'll be back in the new year with more filmmaking inspiration, wisdom and advice. Have a happy holiday!
FILMMAKING REALITY STARTS HERE.


*****************************************************