A belated thanks to everyone who came out to celebrate the holidays with Down and Dirty DV and Double 7 Film just before the Christmas break. (I took a break from posting as well.)
My apologies to those of you who braved the cold, but were not able to get in later in the night. We moved the party at the last minute due to an overwhelming number of RSVP's and then the new venue filled up as well.
No worries though, there will be another joint before the Spring kicks in and we'll do our best to make sure EVERYBODY gets in. (Maybe we need to invite you all in shifts!)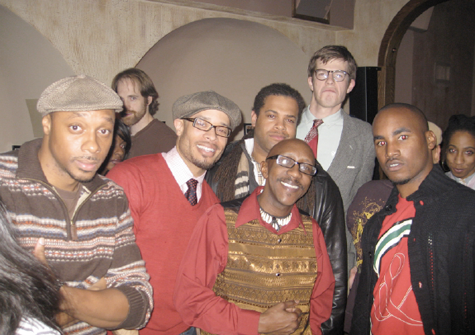 Photo:
More talent and hustle than you can shake a stick at came out to join in the festivities. Peep the links below and see how we get down...
Photo:
Dorian Missick - actor from Six Degrees tv series, Premium, Lucky Number Slevin, etc.
Pete Chatmon - CEO Double 7 Films/Director of Premium and The 761st, Tribeca All-Access Winner 2007
Anthony Artis (gold vest) - Y'all know me already. You're on da blog.
Troy CLE (brown jacket) author of best-selling kids book "Marvelous World"
Benjamin Ahr Harrison (red tie) - Music Video Director for artists A. Pinks, Jay Lefco, DJ Scientific
and Mike Brown
(black jacket)- Director/Editor